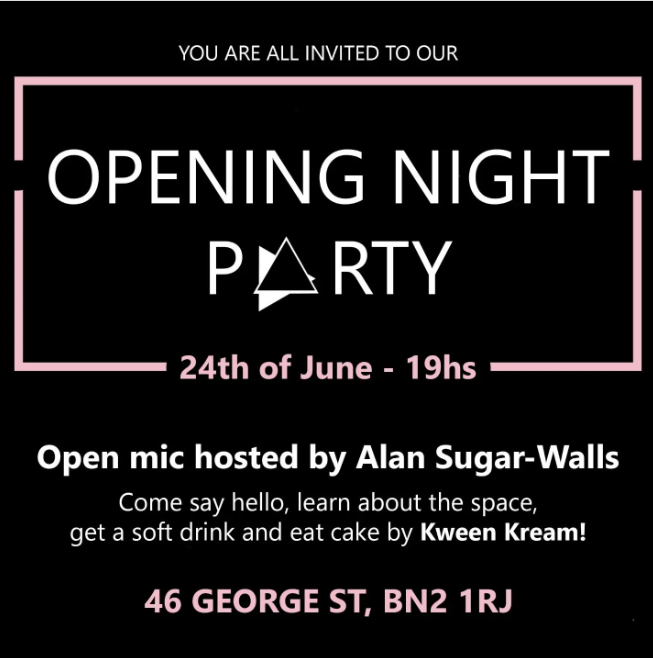 "The Queery is a co-op in Brighton, UK, owned and run by its members, whose main focus is the benefit of the local queer community. It's run in a non-hierarchical way by different collectives of volunteers, with solidarity at its heart. A space for queers, by queers.
The Queery is a wheelchair-accessible sober space that's home to a radical and queer bookstore, a small library, a small vegan café, and it's available to hire for workshops, talks, classes, meetings, support groups, open mics, film nights and more!
Bills and wages will be paid with the sale of stock and food, but nobody will ever be turned away. The space will always be available to everyone. The library will be there for anyone to enjoy, the café will sell food with prices on a sliding scale and we will have a Pay It Forward scheme for those who need it.
We want a space where all queers can feel safe and welcome, a place where we can find freedom and belonging, our own little corner in this hostile world. To achieve this, The Queery will have a zero tolerance policy on homophobia, biphobia, transphobia, fatbophia, xenophobia, racism, ableism. We believe in the abolition of binaries, borders, prisons, the state and capitalism. No-one is free until we're all free."

Address: 46-47 George St, BN2 1RJ, Brighton, UK
Website: https://thequeery.co.uk