Help October Books to Buy a Bank!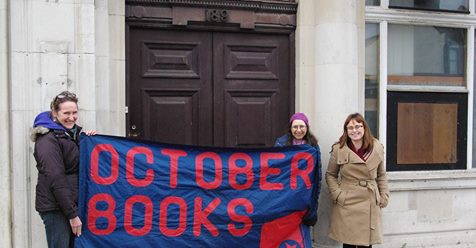 October Books, Southampton's only independent bookshop, is buying a bank! We're borrowing funds directly from the community to buy the Natwest building on Portswood Road in Southampton. The aim is to create not only a new home for the bookshop, but also a venue for community events, workshops and meetings.
We're looking to raise £360K from loanstock and donations and we're now over half way there. We have a crowdfunder for donations, however, most of the funds are being raised through the issuing of loanstock. Loanstock is a kind of community share in which interested people can purchase stock which is then later paid back with interest when the stock matures.
The rest of the funds for purchase and renovation are being raised through a co-operative community loan, and (when the building is bought) sale of the upper floor to the Society of St James. The Society of St James is a Hampshire-based charity who provide supported housing for homeless people.
More details available on the website.
About us
October Books is a co-operative radical not-for-profit bookshop. It's run directly by the workers, with the help of customers members of the co-operative, with profits going back into the shop. It turned 40 last year, having been in the Portswood area of Southampton for the last 15 years. The shop sells a wide range of new books and magazines with a special focus on political, social and environmental issues. It also sells organic and Fairtrade products.
Previous Coverage
http://www.dailyecho.co.uk/news/15921858.A_Southampton_bookshop_could_be_set_to_buy_a_bank/
https://www.theguardian.com/commentisfree/2014/jun/19/revolution-radical-bookshops-october-books-southampton
October Books
243 Portswood Road
Southampton
SO17 2NG
Open: Mon-Sat, 9am-6pm
Web: www.octoberbooks.org
Tel: 023 8058 1030
Fax: 023 8058 1040