Welcome new ARB member Just Books of Belfast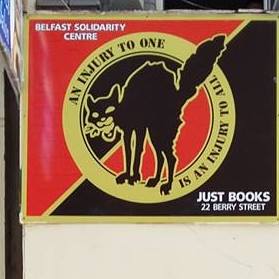 Just Books has a history in Belfast that stretches back to the opening of the original Smithfield shop in June 1978 by the Belfast Anarchist Collective. While the shop closed its doors in June 1994 the Just Books Collective has continued to provide stalls at events such as grassroots gatherings, at Belfasts annual May Day celebrations and Belfast and Dublin Anarchist Bookfairs.
Like the original Just Books we are aiming towards something which is much more than just a bookshop. The original premises included a cafe and print workshop and provided a focal point for the collectives many activities until it closed sixteen years later in June 1994. Set up without any form of state subsidy or grant money was raised through running benefits, from interest free loans and donations from supporters. Just Books has always been run on a self managed basis with collective decision making at its core.
Since May 2016 we've been running a bricks-and-mortar shop, housed at the Belfast Solidarity Centre, 22 Berry Street, Belfast, BT1 1FJ.  Our website is www.belfastsolidarity.org (and there's a facebook page linked from there too).  Our phone number is 028 954 30203, and our new webshop will be up-and-running soon.